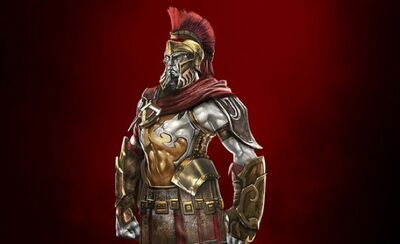 Terror
Greek Name: Deimos
Terror is the roman god of terror
His tattoo for his children is an axe crossed with a sword under SPQR
Terror is always shown in the Roman Myths with or near his brother Fear.
Powers and Abilities
Edit
His children are able to release waves of terror
They also are great warriors
They are stronger, faster, and more swift then regular humans
They can sense people's fear and use that against them
Relationships
Edit
Venus- Mother
Mars- Father
Fear- Brother
Concordia- Sister
Cupid- Brother
Ad blocker interference detected!
Wikia is a free-to-use site that makes money from advertising. We have a modified experience for viewers using ad blockers

Wikia is not accessible if you've made further modifications. Remove the custom ad blocker rule(s) and the page will load as expected.